Learning Areas
Teaching Standards
2.1.2 Proficient Level - Content...

Apply knowledge of the content and teaching strategies of the teaching area to develop engaging teaching activities. (All States:National Standard 2.1 – Proficient Level {NSW uses BOSTES code -2.1.2})

3.1.2 Proficient Level - Establi...

Set explicit, challenging and achievable learning goals for all students. (All States:National Standard 3.1 – Proficient Level {NSW uses BOSTES code -3.1.2})

3.2.2 Proficient Level - Plan, s...

Plan and implement well structured learning and teaching programs or lesson sequences that engage students and promote learning. (All States:National Standard 3.2 – Proficient Level {NSW uses BOSTES code -3.2.2})

6.2.2 Proficient Level - Engage ...

Participate in learning to update knowledge and practice, targeted to professional needs and school and/or system priorities. (All States:National Standard 6.2 – Proficient Level {NSW uses BOSTES code -6.2.2})
General Description
The new courses all feature new mathematics in terms of topics and levels of difficulty.
This course will familiarise teachers with the new material and enrich the skills of the participants in statistics, networks, vectors and differential equations.
Available Delivery Formats
This course contributes to 5.0 professional development hours.
Occurrences
Sessions
No session information is available.
No Reviews
There are no reviews of this format at this time.


About the team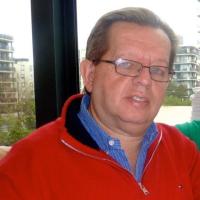 Creator
Morris has previously occupied the position of Head of Mathematics and Mathematics Technology at Reddam House, Kincoppal Rose Bay and The Emanuel School in Sydney. Qualified with an M.A. in pure mathematics and a B. Ed. (maths), Morris has experience teaching in a wide variety of schools and has delivered many professional development courses for mathematics teachers both in Australia and overseas. Morris was recognised in 2006 with an Outstanding National Achievement for Excellence by a Teacher the National Awards for Quality Schooling. Morris has also been designated by Apple as a Distinguished Educator.