Learning Areas
Teaching Standards
2.1.2 Proficient Level - Content...

Apply knowledge of the content and teaching strategies of the teaching area to develop engaging teaching activities. (All States:National Standard 2.1 – Proficient Level {NSW uses Australian Professional Standards for Teachers code -2.1.2})

2.6.2 Proficient Level - Informa...

Use effective teaching strategies to integrate ICT into learning and teaching programs to make selected content relevant and meaningful. (All States:National Standard 2.6 – Proficient Level {NSW uses Australian Professional Standards for Teachers code – 2.6.2})

3.3.2 Proficient Level - Use tea...

Select and use relevant teaching strategies to develop knowledge, skills, problem solving and critical and creative thinking. (All States:National Standard 3.3 – Proficient Level {NSW uses Australian Professional Standards for Teachers code -3.3.2})

3.4.2 Proficient Level - Select ...

Select and/or create and use a range of resources, including ICT, to engage students in their learning. (All States:National Standard 3.4 – Proficient Level {NSW uses Australian Professional Standards for Teachers code -3.4.2})

6.2.2 Proficient Level - Engage ...

Participate in learning to update knowledge and practice, targeted to professional needs and school and/or system priorities. (All States:National Standard 6.2 – Proficient Level {NSW uses Australian Professional Standards for Teachers code -6.2.2})
General Description
This 2-day workshop goes through the principles and processes of filmmaking in a hands-on and practical environment. Participants will learn the how and why of each of the essential roles in filmmaking and apply this knowledge in producing their own short film.
Sessions include Editing, Camera movement, Lighting, Capturing sound and Cinematography.
Audience
Any teachers with an interest in Film and or Video
Available Delivery Formats
Format Description
The face to face workshops at our professional studios provide participants with hands-on experience with the latest industry standard facilities and equipment.
This course contributes to 12.0 professional development hours.
Occurrences
There are no occurrences of 1. Face to Face in Australia (NSW) at this time.
Sessions
Introduction to Filmmaking – The Director
1 hour and 30 minutes
General Introduction presentation and group discussion moving into the specific approaches to filmmaking that the course will be adopting.
Face to Face PowerPoint presentation.
Session 2 Editing – The Editor
2 hours
This session will introduce the role of the Editor and the main principles that drive the editing process.
Presentation and hands-on Intro to editing application.
Teachers begin their own project.
Session 3 Cinematography – The DoP
2 hours and 30 minutes
Interactive Presentation on the role of cinematographer and the specific choices related to lenses and aperture in composing and controlling images. Participants also, spend time working on coverage and continuity using Digital Cinema cameras and lenses.
Session 4 Cinematography continued – The Gaffer
1 hour and 30 minutes
A hands-on introduction to the 4 essential properties of light and how the Gaffers role is to use light to compensate for the limitations of the camera and create specific interest and tone for each scene and shot.
Session 5 Camera Movement/Stabilization – The Grip
1 hour and 30 minutes
A hands-on introduction to camera movement and the role of the Grip.
Consideration is given to how camera movement influences the audience.
Session 6 Sound/Music – Recorder/Mixer
1 hour and 15 minutes
Intro to Microphones and the principles of Audio acquisition and editing/mixing. Participants work with a variety of microphones to gain experience recording sound in different contexts.
Session 7 Colour Grading/VFX – The Editor II
1 hour
This session builds on the principles from the earlier session on editing and explores the role of colour and image correction in creating consistency and feel to a scene.
Session 8 Watching/Reviewing – The Audience
45 minutes
In the final session participants will have the opportunity to screen their finished film and peer review each others work as well as workshopping programming ideas for specific contexts.
What To Bring
All materials resources and equipment are provided
User Rating
4.0
Latest Reviews
Please note the feedback listed here is unfiltered, and includes all comments and ratings collected.
Teaching Film and Video on any budget
Hands on green screen, lighting and video editing was good and useful. The theory content on the first day was too long – needs to be broken up with activities. Prior warning of software needed would be helpful.
Teaching Film and Video on any budget
Very informative. Good ideas and demonstration.
Teaching Film and Video on any budget
Teaching Film and Video on any budget
Content excellent. Practical demonstrations and activities excellent.
Teaching Film and Video on any budget
Content wasn't what I expected. I thought all resources would be provided as website said. 1st day – too much listening. Needed more doing. Didn't really learn too much to take back to school. Lovely presenters! Very expensive for not having equipment to use.
Teaching Film and Video on any budget
It would have been good to be told what programs we needed beforehand. Would like to have done more practical filming.
Teaching Film and Video on any budget
Content was excellent. Would be better if they were slightly better prepared... mostly in terms of who presents what rather than equipment or skills. Lots of stuff to cover – maybe ask students to complete tasks rather than just demo. I won't remember any demo that I watch but if I do it will be much more likely to remember it.
About the team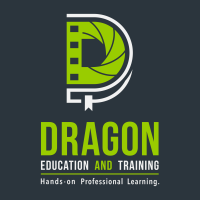 Presenter
The team behind Dragon Education and Training have over twenty years of experience working with teachers, students, and schools to provide imaging solutions. Dragon Education and Training was created in response to the demands of teachers for whom the most valuable resource is knowledge. Teachers want to know how and why they want to understand and to use their understanding to help them deliver better outcomes for their students. Teachers also want to be engaged in order to feel that their professional learning is valuable to their school, their students, but most importantly to themselves. As available technologies continue to emerge and transform the way we do things, both in the classroom and in the real world, it is important to remember that knowing what the technologies are and how to use them is only a small piece of the puzzle; what is far more important is understanding why.
All of Dragon's courses and programs are developed and presented by teachers for teachers, and they aim to address both the how and the why in order to make your professional learning: Relevant, Accessible, Hands-On & Applicable