Learning Areas
Teaching Standards
2.1.2 Proficient Level - Content...

Apply knowledge of the content and teaching strategies of the teaching area to develop engaging teaching activities. (All States:National Standard 2.1 – Proficient Level {NSW uses BOSTES code -2.1.2})

2.6.2 Proficient Level - Informa...

Use effective teaching strategies to integrate ICT into learning and teaching programs to make selected content relevant and meaningful. (All States:National Standard 2.6 – Proficient Level {NSW uses BOSTES code -2.6.2})
General Description
Keynote is more than just a 'presentation' app. Yes, this app is great for running your presentations and powerpoints, but the potential of this app is so much more!
This course will teach you how to use Keynote to create motivating and inspiring lessons in majority of Curriculum areas. Learn how to make digital worksheets, 'convertible' lessons, and fun projects using this extremely versatile app.
Available Delivery Formats
Format Description
Most TTA online courses are available with an Online Subscription. For a little more than the price of one course, you can gain up to 20 PD hours per year. Learn more HERE.
A normal online course is delivered over 1-12 weeks and is worth from 3-12 PDhrs depending on the course content and its objectives. Participants will not need to take time off, the course date is the START date only, end dates will be advertised with course hours.
You will need to download the app Keynote.
Visit the iTunes Store
It is currently $12.99
Please note that this is an Online learning format and we use the platform Open Learning. You have 4 weeks to complete the course and can do at your own pace within the start and end dates (advertised). There are no set times where you have to attend any webinars etc, everything you need will be within the Open Learning Platform. If you have any problems navigating Open Learning please contact either admin@tta.edu.au or Karen Barley and we will do anything we can to assist you.
This course contributes to 6.0 professional development hours.
Occurrences
There are no occurrences of Online - Individual in Australia (ACT) at this time.
Sessions
Introduction to Keynote
1 hour
Keynote – the basics
How to navigate the app
What do all the icons do?
Sharing Capabilities.
Video and Online Modules
Keynote - Animation & Transitions
1 hour
The importance of using animations & transitions
Adding audio to your Keynote presentations
Videos & Online Modules
What can you do with Keynote?
50 minutes
How can you use Keynote in the classroom?
Using Keynote across the curriculum
Integrating other apps into Keynote
Videos, Online Modules
Creating Digital Worksheets
1 hour and 30 minutes
Making worksheets that are digital and exciting
Using the animation feature to make Keynote convertible
The pzazz factor.
Video, Resources and Online Modules
Using Keynote Across the Curriculm
50 minutes
Using Keynote for Literacy Lessons
Using Keynote for Numeracy Lessons
Using Keynote in other Curriculum areas
Video, Resources and Online Modules
Students can use Keynote to demonstrate learning
30 minutes
How can Students use this app to complete their work
Using Keynote to enthusiastically demonstrate learning
Video, Resources and Online Modules
Overview and Review
20 minutes
User Rating
4.3
Latest Reviews
Please note the feedback listed here is unfiltered, and includes all comments and ratings collected.
Using the Keynote App for motivating and inspiring lessons
I really enjoyed this and learnt some great things about using Keynote in my classroom. The videos and activities helped assist my understanding of this tool and gave me some great ideas about how to use digital worksheets and combine applications for effective teaching resources. A very valuable course.
Using the Keynote App for motivating and inspiring lessons
I found this course really helpful and inspiring. The instructions were step by step and mostly, easy to follow. I liked being able to replay the modules numerous times to take in more information. The quick replies to questions was also very helpful. I now have a lot more confidence to explore keynote on the iPad and laptop and will think to use it more often when preparing lessons.
Using the Keynote App for motivating and inspiring lessons
I learned some new uses for the app, didn't realise it was so versatile.
About the team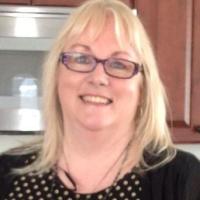 Creator
Karen Barley is an internationally recognized educational consultant specializing in the needs of children with autism and their families. She has over 25 years of expertise as an educator, private one-on-one consultant, course developer and educational technology specialist.
Karen is especially successful connecting with children who have autism and creating behavioral, sensory and educational strategies that help children reach their full potential. Her highly personable style, combined with extensive research, knowledge and firsthand experience of the needs of children with autism, makes her extremely effective and innovative in tailoring individual solutions for families and their schools. Using new and existing approaches Karen integrates her pioneering work with iPad technology to create differentiated educational programs where children with autism can consistently experience success while learning.
In addition, Ms. Barley is an accomplished and engaging, sought after public speaker and teacher trainer. She has shared her significant insights and knowledge on such subjects as, Technology in Education, Technology and Autism, Autism Awareness, 21st Century Learning, Technology and Curriculum Development and other subjects in the United States, Australia and as a keynote guest speaker for international face to face and online conferences.
She is now undertaking her PHD and is a sessional teacher at Monash University.
Creator
If you hold a current TTA Subscription you can enrol into this course for free. To learn more, visit tta.edu.au/go/subscription
Please review the course details to learn how many PD hours this course contributes.